Join these Canadian children's authors, illustrators, and performers to hear about all the ways we need to take care of our water and the land surrounding it! Travel to the bottom of the ocean, sing a song about rain and visit the Royal Botanical Gardens to meet Salvadore, the Midland-Painted turtle. Participate in a fun water craft with our friends at the Art Gallery of Burlington.
---
Jess Keating
Join award-winning author Jess Keating presenting her book Ocean Speaks, where curiosity leads to important discoveries that help us understand oceans better.
From a young age, Marie Tharp loved watching the world. She loved solving problems. And she loved pushing the limits of what girls and women were expected to do and be. In the mid-twentieth century, women were not welcome in the sciences, but Marie had other plans.
Ocean Speaks tells the story of one amazing woman and how she discovered the ocean's biggest secret.
---
Mr. Ben
Join Mr. Ben for an engaging and entertaining performance that children will love.
With his guitar in hand and a childlike enthusiasm & energy, Mr. Ben's signature blend of folk & pop grabs audiences' attention, draws them in, and has them singing and moving along regardless of age.
---
Etienna Moostoos-Lafferty & Joanne Robertson
Etienna Moostoos-Lafferty is a member of the Sturgeon Lake Cree Nation in Treaty 8 territory in the province of Alberta. She has worked provincially as an Indigenous Education Consultant and is now the Indigenous Education Coach for Evergreen Catholic Schools in Edmonton, Alberta. She is the narrator of this presentation based on Joanne Robertson's book.
Learn about the importance of water with The Water Walker.  Joanne is a member of Atikameksheng Anishnawbek. She is the founder of the Empty Glass for Water campaign to bring attention to the drinking water crisis in Indigenous communities. She produced a film about the water crisis called Glass Action. Today she works as a research assistant at the Shingwauk Residential Schools Centre and continues to support the water walks through live GPS spotting to ensure the water is safe. 
---
Meet Salvatore the Turtle
Join our friends from the Royal Botanical Gardens as they introduce you to Salvatore the Turtle. Learn how the Midland Painted Turtle survives in Cootes Paradise Marsh and how you can help protect our shelled neighbours. 
---
Kate Moss Gamblin
Join Kate as she helps children explore and celebrate water.
Kate Moss Gamblin's Canadian identity springs from our delightful Earth—from toes in the waters of Muskoka to facing the bracing winds of the Arctic while building igloos. Her doctorate informs the See to Learn series. 
Lake: A See to Learn Book is the second title in a series of non-fiction picture books for very young children that uses lyrical language to encourage a sensitive perception of the natural world and a caring connection with it.
---
Paper Marbling with AGB
Join art educator Heather Kuzyk from the Art Gallery of Burlington as she teaches you how a few common materials from around your home can help you make unique, swirling designs on paper that are never the same twice!
Materials required:  Thick white paper, a shallow plastic container or baking pan a little larger than your paper, paint and/or food colouring, a plastic or metal ruler, shaving foam, and a BBQ skewer or pencil.
Submit your work to the Creativity Club
---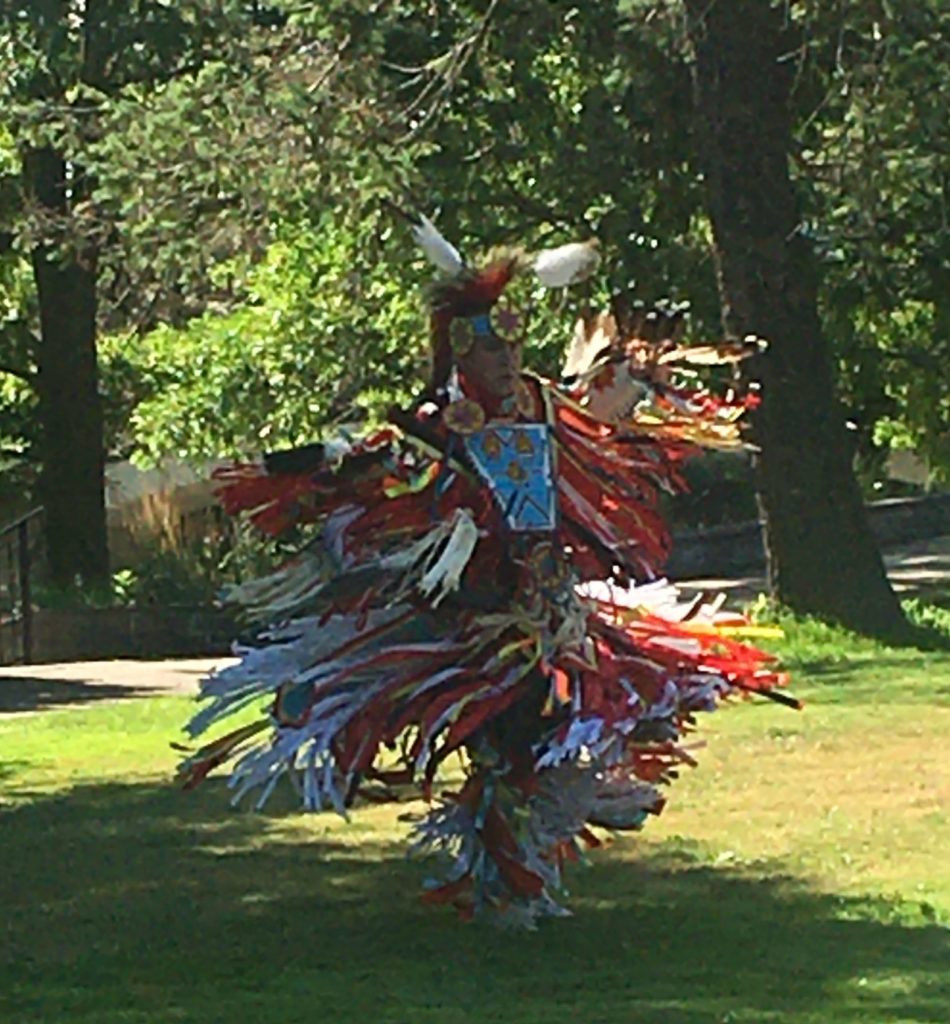 White Pine Dancers
Join members of the White Pine Dancers, Dan Secord of the Mississaugas of the Credit First Nation, and Ojibway Storyteller Aaron Bell for a highly energetic and engaging performance that the whole family will love. They will be sharing the gifts of song and stories featuring traditional First Nations clothing, music and dance with our Telling Tales audience.
Established in 1999 by Aaron Bell, the White Pine Dancers was created and continues to operate as a First Nations Curriculum Design Company sharing Indigenous knowledge within schools, festivals and events across Canada. Aaron is a winner of the  Individual Arts and Culture Award, Brantford's Shining Stars Tourism Awards.
---