August 2022
Head over to the blog for the next installment of Glitchen from Mrs. Mercanti's FDK class: Glitchen Returns!
July 2022
Kindergarten student Troy was inspired by author/illustrator Mélanie Watt during Celebrating Graphic Novels to create his own version of Scaredy Squirrel!
June 2022
Grade 5 student Ruby was inspired by an illustration workshop with Debbie Ridpath Ohi.
May 2022
Graphic novelist Dom Pelletier submitted his own entries to the Creativity Club after workshops with French Immersion students at HWDSB. Meet Leo and Dino!
April 2022
Review of The Barren Grounds by David A. Robertson, written by a Grade 4 student from Central Elementary School in Hamilton
March 2022
I Had a Unicorn in My Family by Aerin, age 5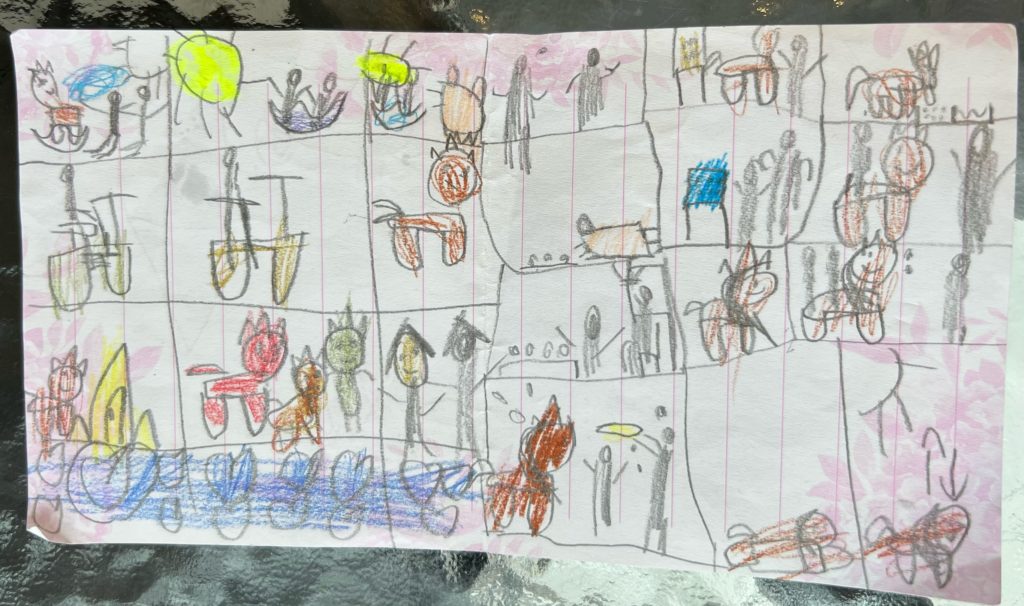 February 2022
January 2022
Aerin, age 5, enjoys creating her own graphic novels. She often shares them with her Kindergarten class on Fun Fridays!
Grade 1 students from Cathy Wever School in Hamilton share their creative work inspired by illustrator Debbie Ridpath Ohi.
December 2021
November 2021
October 2021
September 2021
July 2021
June 2021
May 2021
March 2021
Scare Me! Contest Finalists
Fright Night at Twilight—Audrey, age 12
"Mom, couldn't we have stayed somewhere else?"
"Tassy, we are not doing this again. I know it's not the best situation, but we have to make the best of it. Look on the bright side, Mr. Garrett didn't drop us off on the street with all our stuff like he did the Mahorm's, he gave us a week to pack."
. . . Continue reading
The Haunted Castle—Sami, age 10
In the late 1950s there was a boy named Sami. One day Sami was taking a walk in his neighborhood and he saw a castle that had not been there before. "This is odd," thought Sami, "This castle hasn't been here before."
Y̷o̵u̷ H̶ ̶ad̶ ̶ Y̵ ̶o̴u̶r ̵T̶ ̷im̵ ̷ e.̵—Cruz, age 10
Earlier today I went to the computer to play Roblox. I've always liked the game, but today something felt different. I decided I would play Texting Simulator so I joined the game and I had this error message:
HuWuQuR
The Haunted Mess—Josh, age 11
It was night time in a small town called Scareville they called it that because their Halloweens were always the scariest 8 of the people in the town were in a secret club. They built a secret base into a cliff. The people that were in the club were named Ronald, Jim, Joe, Scarlet, Bob, Teddy, Tim, and Bill. They had a secret club because they were the ones that made the town scary.
Twists & Turns Contest Finalists
Billy Goats Gruff Remake—Alia, age 11
Once upon a time there were three billy goats eating away at the grass on their side of the bridge, but one day all the grass was gone. So the billy goat gruff decided to send over the smallest goat first.
Goldie Locks and the Three Bears—Ruby, age 9
Once upon a time there was a little girl named Goldie Locks. She was a very kind girl. One day she went for a walk in the forest and decided to walk in a part of the forest she'd never walked in before.
Peter Pan Adaptation—Noah, age 13
Wendy was soaring through the sky as she approached the island. Peter turned his head as they neared the shore. "That's Neverland!" Wendy smiled as did her brothers. As the four of them flew lower Michael spotted a cove, and a ship with black sails in the cove. Michael however, had seen ships before and although it didn't seem to be an S.S. he mentioned nothing of it.
January 2021
December 2020
Switcheroo! by Ruby, Aged 9
Dear diary,
Today was an okay day. I woke up to my water bottle dribbling on my chin! I tried to make things better by spreading around my bedding to dry myself off but some got in my nose. Ahh choo! …Continue Reading
November Submissions
Bookmark Contest Winners!